Commercial Feature
Is Student Gambling a Problem?
It is no secret that students from around the world gamble while attending University. Online poker is popular amongst students and can be a means to earn extra income whilst studying. Gambling whilst at university is so popular - Hollywood has even produced feature films about it. Do those who gamble also display other problematic behaviour?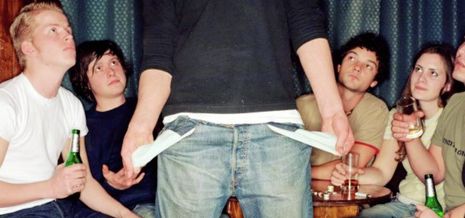 The latest statistics from the UK's Gambling Commission indicate that 1.2 million UK students gamble in some shape or form.
Apparently that adds up to two out of three students gambling. But is it a problem?
Tim Miller, Executive Director of the UK Gambling Commission says:
"Two in three students gamble according to our new figures. Whilst many may do so without experiencing harm, for some, gambling can lead to debt, time away from lectures and potentially lead to a longer term problem with gambling".
He wants universities to educate students about the darker side of gambling and associated risks of this type of behaviour. Sex, drug, and alcohol education programmes are commonplace in universities. Miller would like to see gambling added to the list. The UK Gambling Commission has already taken active measures by publishing tips on how to avoid risky gambling as well as where to find support for problematic gamblers.
Some of the statistics illuminated by the UK Gambling Commission's most recent study shows some gambling can impact students financial and educational situations. The study shows that students who are risky gamblers are more likely to miss lectures or even drop out of university. A survey of 1000 students reported that one in four students gambled more than they could afford. The study also found that one in four students with a gambling debt are in over their heads by as much as £10k, however the problem is not widespread.
Are they gambling for leisure? Or, are they chasing the elusive 'buck'?
According to the survey, 54 percent gamble to make some extra cash.
A study from the University of North Carolina in America provided similar results and has shown that 75 percent of students have gambled in the past year. American students love to gamble, especially on sport, with 67 percent of students gambling on sport legally or illegally. The study also seems to conclude that college-age students are more susceptible to at risk behaviours and are targeted by gambling and credit card companies. Also, student gamblers in America, when compared to their non-gambling peers, are more likely participate in illicit drug use, binge drinking, marijuana use and unsafe sex. Additionally, six percent of the students surveyed were found to be at risk or problem gamblers. This could be due to the fact that youth rates of problem gambling are 2 to 3 times higher than adults. The study also concluded that nearly all American colleges and universities have policies on student alcohol use, only 22 percent had policies on student gambling which leads to the question...
Do colleges and universities need to take a more active role in monitoring and policing gambling amongst their students?
Chinese students studying abroad are also susceptible to the allure of gambling; although there may be unique circumstances and factors that predispose them to problematic gambling, according to a study done by Wendy Li of James Cook University.
Their life in China consists of pressures to focus and perform in school and study. These students go abroad and have a taste of freedom, so they start experimenting and many wind up hitting the tables in casinos or online. Li attributes this to Chinese culture. Games of chance are common in Chinese households and are glamourised in films and on television. Other contributing factors include the isolation of being in another country and loneliness, resulting many of them finding a pastime gambling. Some Chinese students even considered it a profession, with one student admitting to gambling up to 112 hrs a week!
It seems that all around the world students are resorting to gambling for a variety of reasons. The unlucky ones take it too far and gambling slowly consumes their life.
Online gambling is more available now than ever and current students are the first generation to be exposed to wide-scale legal gambling
Gambling has been integrated into mainstream culture with television shows like 'Poker After Dark' and celebrity poker getting in on the act, further glamourising that game. Technology is making it easier for students to place bets with many online sites requiring a few clicks of a mouse to bet on your favourite sports team or join an online poker platform.
Students hear success stories such as that of Anmol Srivats who has received media attention and won 80,000 pounds playing poker and think - "Why not give it a go?" Little do they know that to be a successful poker player requires strategy and superior knowledge of the game. Srivats, a further year maths student at the University of St Andrews has even given interviews in the student press revealing tips and strategies on how to become a great poker player. In fairness, the interview does also mention all the time and research he put in before achieving success on the tables.
Education, education, education
Education could be the key factor to dealing with problem gamblers in the student community. At this point in time most universities do not have information or policies in place to address the problem. This being said, an organisation called Gamcare is reaching out to problematic gamblers through www.gamcare.org.uk. Gamcare are providing information to students and showcasing platforms where they can seek help if they feel they have a problem. Gamcare's funding comes from a voluntary funding arrangement that is managed by Gambleaware. This allows them to provide free treatment to problem gamblers across Great Britain. They also accept donations to further fund their charitable mission which can be done through the website mentioned.
In conclusion, a majority of students are gambling in the UK and throughout the world, although only a minority are found to be at-risk or problem gamblers. The ease of access and age factors have resulted in more students gambling for extra money, for recreation or to combat loneliness and boredom. The vast numbers indicate that gambling has become widely acceptable, therefore more awareness and education systems need to be in place at universities to prevent recreational gamblers from become problem gamblers.