Commercial Feature
How to stay positive during uncertain times
The last couple of months haven't been the easiest. You're bombarded every day with the realities of the Covid-19 outbreak. Tragic deaths, more and more people getting sick, the news is filled with negativity each and every day. So it's pretty normal you're having a hard time seeing the bright side of life. While staying positive might be hard, it's a choice you definitely should make.
Being and feeling positive influences a lot of areas of your life. Not only will you sleep better, you'll also be less likely to get sick. And isn't that just what you want now? We're here to help you stay in the sun with these amazing tips!
Focus on yourself
While having to stay at home might not be what you want, you can use this time to focus more on yourself and your needs. Without the stresses of your day to day commitments, there's a lot more time available to do some introspective work.
What is something you've always wanted to do but didn't have the time? Are there some emotional issues you'd like to work through? Pick those up. Invest the time you now have to finally get some things resolved or find a new hobby. It'll make you a better and happier person! And doing this now, will help you feel more grounded when we're finally moving out of this crisis.
Stay away from the news
Yes, being informed is important. Especially since rules are changing a lot. But obsessively checking every news site and channel every ten minutes, isn't healthy. It gets under your skin and will leave you feeling anxious all the time. Try limiting the time you spend looking up news. Maybe only check twice a day, but make sure not to do this just after getting up or before going to bed. It will influence your mood during the day and mess with your sleep at night. If you can, just leave it be completely (except for the very important updates on regulations, of course).
What you can do instead, if you're having trouble staying away from the Internet, is to look for sites that provide positive and entertaining content. Sites like No Majesty are a great source that are providing positive stories for its readers. Focusing on the positive will help you get, and stay, in an uplifting mindset.
Do things you enjoy doing
Constantly doing tasks you dislike will weigh you down and influence your mood. Agreed, household chores still need to be done, but why not make them more fun? Listen to some amazing music that gives you happy vibes while cleaning. And make sure to give yourself some time in your schedule to do something fun.
It doesn't always have to be work work work, right? This is also good to keep in mind when things start to get back to normal. Keep up with making time for yourself and doing the things you enjoy. Life's too short to waste it.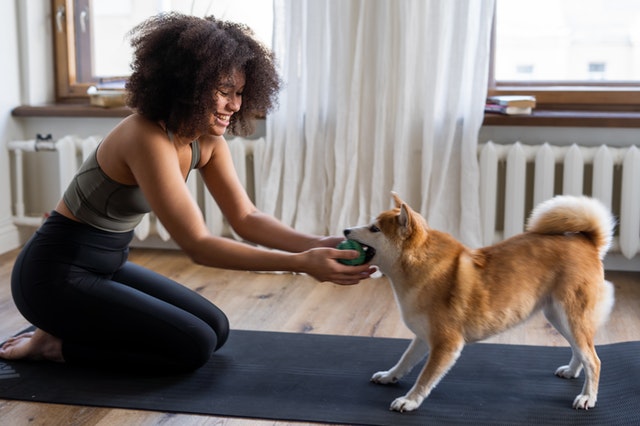 Be active
Endorphins are a really great hormone that will make you instantly happy. How to get them? Start moving your body on the regular. How you move your body, doesn't really matter. If you like dancing, dance. If you like walking, walk. More into some really intense workouts? Do them!
Scared to go outside? There are a lot of YouTube videos that can help you get your sweat on at home. That way you have the ability to move your body in the safe environment of your house.
But whatever you do, make sure it elevates your heart rate to have it elevate your mood. Plus, another nice side effect is that you might actually see some changes in your body too.
Write out your feelings
Last, but not least, try writing. Writing has a therapeutic effect. When you're feeling down, anxious or stressed, take a piece of paper or notebook and start to pen down your feelings. It's a great way of letting them go. Afterwards you'll feel relieved and more ready to take on the rest of the day.
It might be that you resonate with this practice and decided to pick up daily journaling. It's a very therapeutic way of expressing yourself. And it doesn't have to be limited to writing words. You can draw, paint or doodle anything to express your feelings and release yourself of them.
We've bundled some useful tips for you to stay positive during the uncertain times. Try to implement a couple of them to help you navigate these uncharted waters. And keep yourself afloat. Happy trying!
Sponsored Links
Partner Links