Commercial Feature
How Repton School Polishes Musical Talent Into Skill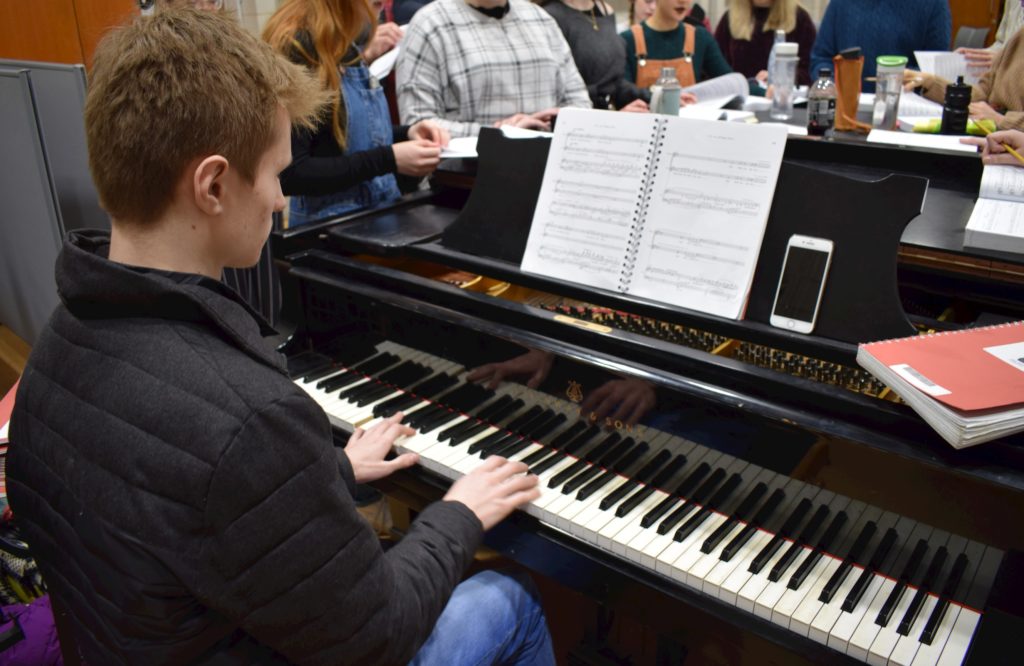 A spotlight on how Repton School has helped former student Matthew Rhodes to make the most of musical opportunities.
We often use the words 'talent' and 'skill' interchangeably, thinking of these as innate gifts that we are born with – but they are in fact different from one another. While talent does indeed refer to natural aptitudes, skills are learnt abilities that we develop with time, effort, and the right coaching from the right teachers. Having said that, talent and skill do usually go hand in hand – good teachers recognise talent in their students and take the time to hone these talents into polished skills. This is exactly the approach that Repton School, Derbyshire's co-educational, independent school, takes across all areas of its extensive curriculum.
Honing Musical Skills
Amongst Repton's curriculum, music is a subject that requires in-depth coaching from excellent teachers if students are really to excel. Many musically talented students receive the highest-quality coaching from Repton's unrivalled music tutors and go on to accept music scholarships at Oxbridge or follow Repton's music programmes to achieve successful musical careers.
One such student is Matthew Rhodes, who completed his Repton journey in 2019 and is now studying at the University of East Anglia. Matthew is enjoying the best of both academic and creative worlds, balancing a medical degree with a great number of semi-professional music projects. During his time at Repton, Matthew learnt to play the piano, trumpet, saxophone, and organ – both independently and as part of collaborative groups. The Music Department's sense of community was particularly motivating for Matthew, who found that working with other students on performances helped to further his musical skills on both technical and emotional levels.
'The most memorable aspect about music at Repton Prep was the amazing support to do practically whatever you wanted musically,' says Matthew. 'A few friends and I set up a brass quartet that rehearsed each break time called the Biscuit Band. This was my first opportunity to direct a band and arrange and write the music for it. This musical leadership has led me to be where I am today, directing my university's concert band as well as becoming musical director for two musicals in my one and a half years of being at university.'
Now at university, Matthew spends his spare time working on a host of musical projects. Not only is he the Director of Music for a production of The Last Five Years, but he is also producing a video band recording for radio, and mixing a selection of virtual bands and choirs so that musical groups can share their performances despite the pandemic. On top of this, Matthew has recorded his own songs, which are available on Spotify under the name Will Rhodes. In true Repton spirit, Matthew is donating all funds from his sales to Dementia UK. Repton is delighted with Matthew's successes to date and looks forward to supporting him wherever his musical and medical career leads next. Meanwhile, the school is devoted to providing the same comprehensive and inspirational music education for all students to cultivate a new generation of music professionals and enthusiasts.
Repton's Musical Opportunities
At the beginning of their music education, Repton students can practise a variety of instruments for the first time, sing amongst their peers, and make their first stage performances. As students develop their confidence, they can then perform in the school's Symphony Orchestra, String Ensemble, Concert Band, String Quartets, Jazz Band, Brass Ensemble, Saxophone Ensemble, and choirs. The choice is virtually limitless. These groups perform regularly at Repton's Informal and Coffee Concerts, Concerto Spotlights, professional Concert Series, and orchestral concerts. Meanwhile, the school's Chapel Choir performs at weekly chapel services, the Remembrance and Christmas Carol Services, and various external events.
'The flexibility on offer at Repton allowed me to become a conducting intern with the Central England Concert Band in Birmingham, and the ambitious drive of the music department allowed me to gain two dipABRSM's, which would not have been achievable without the support of the fantastic peripatetic music staff and also the amazing music department staff,' says Matthew. 'This was all in addition to being allowed to write a fanfare to open the annual Christmas Bands concert, I believe for each year I was at Repton, and setting up and running Repton's Brass ensemble. The opportunities for the choir were amazing also, performing on BBC Radio 4 on numerous occasions as well as in places such as St. George's Chapel, Windsor Castle, St Paul's Cathedral, and in London's Royal Festival Hall.'
A Comprehensive Music Education
Back in Repton's industry-standard recording studio, IT suites, and practice rooms, students have access to the school's pianos, harpsichords, drum kits, and music computers, which run Sibelius and Cubasis programs. Here, Repton's Director of Music, Head of Popular Music, and Head of Academic Music cover every aspect of the subject in the varied music curriculum. Aside from Repton's four full-time music staff, over 30 part-time instrumental teachers offer tuition for students who sing or play string, wind, and brass instruments. Over half of Repton's students receive individual music tuition every week.
Students can also join the Harvey Society – named after old Reptonian Jonathan Harvey – to discuss the music industry beyond the exam specifications. On top of this, Repton welcomes several musical artists to the school, who give performances and hold masterclasses to engage students and help them to excel in their musical studies.
Learn more about Repton School's outstanding Music Department.