Commercial Feature
Experts identify the most important skills for an interior designer
Throughout 2020-2021, there has been a downturn in job offers for interior designers. Lucy Attwood, a luxury residential and commercial interior design expert from the International Career School, shares how the design industry will recover thanks to the introduction of vaccines and which interior design skills employers are willing to pay an increased salary for.
Increased interest in home improvements amid the pandemic
Revenue for the UK interior design industry fell by 8.8% in 2020-2021 amid the COVID-19 (coronavirus) pandemic. That said, the pandemic has increased people's interest in improving their homes. Many of these projects have been undertaken privately as DIY tasks due to the rising cost of building materials and construction work. The impact of the shortage of building materials has led to a 14.7% increase in the price of all building work compared to the same period in 2020. All of this is affecting the interior design industry.
This group includes specialists who design architectural interiors and their furnishings. Interior designers consider building codes, health and safety regulations, traffic patterns, floor plans, electrical needs, interior finishes, and furniture.
Fortunately, the introduction of coronavirus vaccines in the UK gives confidence for a gradual economic recovery. Hence, we should consider further what the immediate future holds for the interior design industry.
How interior design requests change against a Covid background
The quarantine, during which time everyone stayed at home and did not socialise much, affected overall morale. Working from home also caused stress, blurring the boundaries between work and life. All these consequences of the pandemic created a new need – home interiors needed to create that lightness of being, in which one finds a positive attitude and a good mood.
Interior design influences both physical and mental health through the right choice of materials, lighting, colour and acoustics. The ability to make an interior 'flexible' is also valuable, i.e. if you want to create a home office or a place to exercise or study.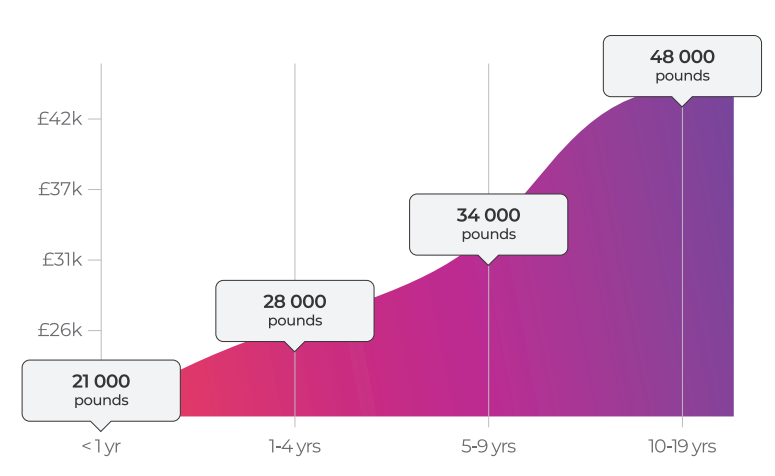 Cost of payment according to seniority based on job analysis of payscale, as of August 2021
Reorienting interior designers to new realities will not only help them keep their jobs but also increase their potential profits.
Which interior designers are getting a pay rise while others are being laid off?
The COVID-19 pandemic has had a significant impact on the field of labour in architecture and interior design.
BIID estimates that, as of May 2021, there are currently 20,000 interior designers practising in the UK. According to research by FRAME's Martin Bennell, of the architecture and interior design professionals surveyed, 28% are currently unemployed. Of these, 34% were among the least experienced (up to two years), meanwhile, 32% had more than ten years of experience. Architectural assistants were most likely to lose their jobs (38%), followed closely by architectural technicians (37%).
Job losses in the UK have been an unfortunate consequence of the COVID-19 pandemic. This means the architecture and interior design job market has seen a significant increase in the number of candidates actively seeking employment opportunities.
In his industry report, Martin Bennell of FRAME notes a drop in salary offers for interior designers of up to 20%. This varied according to skillset, location, and seniority.
Based on data from staffing firm Hays, a review of salaries for key professional builders in the construction industry shows that senior technologists received a 4.3% pay rise in 2020, while BIM and Revit managers received an average additional 3.6%.
This intense competition for jobs means job seekers need to learn new skills and deepen their professional industry knowledge.
Which interior design skills are employers willing to pay more for in 2021?
The Industrial Strategy Board estimates that, by 2030, around 20% of the UK workforce will be under-qualified for their roles; this will amount to 7 million workers struggling for their jobs.
Hard Skills
Lucy Attwood, the interior design expert from the International Career School https://intcareersch.co.uk/, highlights particularly sought-after skills: good problem solving, sketch-up, colour theory, a good understanding of materials, and space planning. Lucy notes that developing the following computer skills particularly will help you stand out as a professional:
● Using AutoCAD and/or Revit for technical drawings, construction kits, and project details.
● Creating 3D images using Cinema 4D (or other 3D modelling software).
● Have good skills with SketchUp and Adobe packages (Creative Suite, Illustrator, InDesign) and 3D Studio Max.
● Ability to create 3D visual effects using Vray. Demonstrated experience using digital tools such as BIM360, Dynamo, Navisworks, Bluebeam, Rhinoceros Grasshopper.
Soft Skills
While technical ability, software skills, and industry experience will always remain important, candidates with a strong set of soft skills will stand out from the rest. Lucy Attwood recommends:
Emotional intelligence. No one wants to work with a designer who is not empathic or shows overconfidence. Strive to be a good listener and understanding of your client's needs.
Communication. An effective career move is to develop the ability to manage and coordinate a team (good communication and interpersonal skills), which can include suppliers, builders, engineers, etc.
Productivity. For a designer at the start of their career, it is essential to prioritise their workload correctly. Later, with increasing responsibility, such a professional will cope with coordinating other team members. As a project administrator, an employee assesses risks, makes sure that components are delivered smoothly, and performs work within the budget and deadlines.
Sales skills. An interior designer converts customers' initial interest in home remodelling into interior design projects and a selection of furniture and décor. Employers value the skills to increase sales and make the most of all opportunities, including cross-selling and up-selling.
Soft skills such as leadership, relationship building, adaptability, and initiative have increased in importance during the pandemic.
The digital skills of the future
Much of the under-skilled workforce relates to digital skills, and by 2030, around 5 million are expected to be under-skilled. Martin Fix, head of buildings in London at Ramboll, said: "We expect 2021 to be a real test case for hiring top talent with digital skills or who understand how to use digital technology. Such candidates are already in high demand."
Lucy Attwood thinks there will be better tools to assist in design work: 3D scanners for spaces, better quality 3D visualization software, and easier ways to produce designs fully remotely. Knowing this, it is promising to invest in 3D visualisation training. You can use 3D modelling to help you visualize a design as an aid in the design process. You can also use it to show designs to your clients in a way they can easily understand.
Through Building Information Modelling (BIM), a process that involves creating and managing digital representations of the physical and functional characteristics of spaces, everyone involved in a project, including the client, designer, architect and lead builder, can coordinate their work and communicate seamlessly; improving accuracy, minimising errors, and allowing design concepts to come to life without having to spend money on materials.
A report by labour market analyst firm, Burning Glass Technologies 2021, notes a steady demand for 3D skills in many industries. Demand for real-time 3D graphics skills is projected to grow 601% faster than the job market as a whole.
Unreal Engine facilitates the delivery of high-quality data from a variety of 3D, CAD and BIM applications. Demand for Unreal Engine technology has quadrupled since 2013 in the UK. Burning Glass predicts that Unreal Engine will grow 138% globally over the next ten years.
As demand exceeds supply, workers with skills in 3D and, in particular, real-time 3D graphics are paid well above the market average. In the UK, for example, jobs requiring Unreal Engine skills pay 34% above the average market wage, and that gap continues to widen.
What to do if you are just planning to become an interior designer?
For those just starting on the path to becoming an interior designer, Lucy recommends to begin with smaller and simpler projects. It's very common to start by doing interiors for close contacts such as family and friends, which is also great practice and experience. It's also a good way to get feedback and build up a portfolio that you can use to get more clients.
One of the best ways to separate yourself from the interior designer crowd is to specialise. Your niche, given the Covid-19 realities, can relate to preferences by:
Phyto Design spaces. While we remained locked in our dwellings, any available open space with fresh air became a real treasure. Plants were no longer just part of the decor, but an expression of concern for psychological health, a way to connect with nature as a source of energy.
Decorating the workplace at home. With the shift to remote working, the need for a comfortable, functional and beautiful workspace at home has arisen.
Hybrid and transformable designs. The home is no longer just a house. Because of pandemics and quarantine, it has become an office, a school, a gym, a playground, a restaurant, a hostel and a place to relax. This is why there is a need today for more flexibility in interior design, for which modular and adaptable elements are suitable.
Once you have chosen your interior design specialisation, focus on finding projects for your portfolio. Create a strong portfolio on freelance websites such as PeoplePerHour, Elance, fiverr.com, upwork.com, guru.com, toptal.com. Use social media websites or professional channels such as LinkedIn to promote yourself and your job search. You could also create a Facebook and Instagram page to showcase photos of your work to attract potential clients on your social network.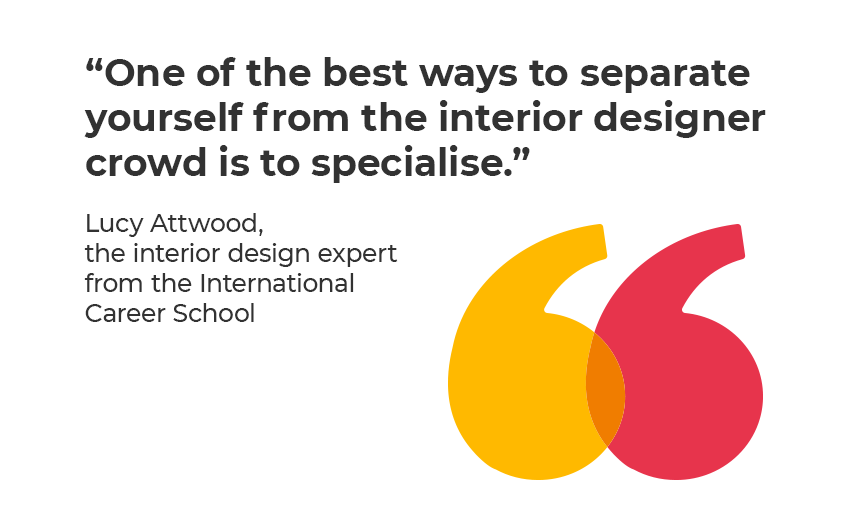 Remember that 5-7 projects are usually enough for your portfolio; following this, you should focus on quantity (but don't disregard quality entirely). Include client references in your portfolio if you have them, remembering that reviews work best to promote your services.
How to increase an interior designer's income during COVID-19
To earn more as an interior designer, Lucy Attwood recommends focusing on professional skills that will set you apart from your peers. You can increase your annual salary by £10,000 or more in just one year of your career by developing the following skills:
Drawing interior design sketches by hand;
Creating Photoshop-style mood boards to make a project visible;
Preparing presentations using animation and 3D;
CAD drawing, 3D drawing and BIM design;
Developing a personal brand by publishing expert content on the blog, social media and profile magazines.
There are 1-3 month courses for photoshop skills, visualisation, AutoCAD drafting, practice-oriented and portfolio-building. Investing in professional development is a great way to increase your income as an interior designer in the UK or elsewhere.
Take part in interior design competitions relevant to the projects you want to work on. Hundreds of companies and design websites offer design competitions (including Dexigner, Dezeen, ARCID, infodesigners, idesignawards, licc.uk, SBID International Design Awards). Attend professional events, speak at conferences to expand your network, and don't forget to write about it on your blog to keep everyone up-to-date with your latest developments!