Commercial Feature
9 Garden Building Tips for Homeowners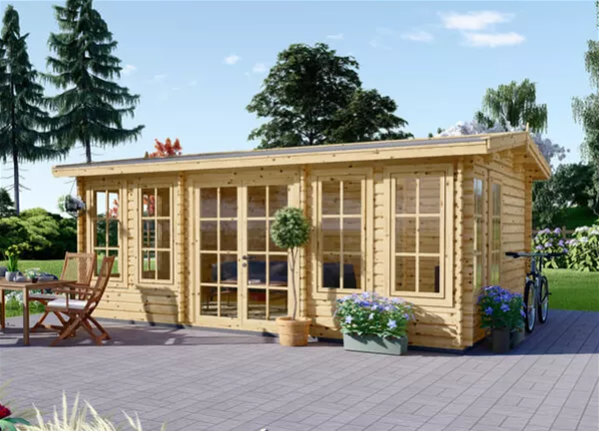 When it comes to adding or building any type of outbuildings such as a garden room or a garden office space, it needs to feel like a seamless addition to your home and garden space. The following tips from www.quick-garden.co.uk will help to ensure that your garden room is both functional and well-designed.
1. Choose the perfect location
The ideal place to set up your garden room or office space is somewhere flat and dry, however, if you have a small outdoor space, you carefully need to consider where to position it. You need to make sure that its best possible angle can be viewed from the house. It isn't recommended to place your outbuilding in the garden's only sunny spot except if it has doors that open out creating a sheltered sun trap.
You should instead consider building or adding it in a well-shaded area where it would be impossible to grow plants; so as to hide an ugly structure at the back of the garden or to maintain privacy within your garden.
With a good solid, dry, and level foundation, your garden office will continue standing for a long time to come and in all kinds of weather conditions.
2. Get it in Proportion
While your local planning regulations will dictate the appropriate size of your outbuilding, the general rule of thumb is that it needs to be big enough to be functional and to be easily adaptable to your changing needs, though not too big that it takes up most of your garden space or covers it in shade. You can get a better visualization of its proportions by using strings and canes to mark out the stipulated boundaries. If you aren't comfortable with the size, you can instead consider a quality garden shed.
These modular garden rooms are available in different sizes.
For example, the Trio Ultra is made of Western Red cedar and is properly insulated for use all year round. Depending on the orientation of your garden, the location of the bi-fold doors and double-glazed windows can be adjusted. Measuring H2.49xW4.3xD3.2m, the Trio Ultra starts at £10,985., and it is one of the seven garden room sizes Smart Garden offers.
3. Choose the right materials
When it comes to exterior wall cladding, tongue-and-groove is the industry standard. It comes either pretreated or stained according to your preferred color scheme. It is important to also take into consideration the thickness of your walls, floors and ceiling. Keep in mind to use your building throughout the year.
In case you are constructing the outbuilding from scratch, use strong timber for base framing and decking in order to support as much weight as possible.
If you are looking for a more permanent structure, consider having it brick or block built and rendered. However, it is important to keep in mind that these materials as well as the amount of glazing needed will lead to increased costs.
4. Go for the best glazing
While you want your doors and windows to match the style of your house, you also need to ensure that their shape, size, and position are designed around how you will be using your room. For instance, if you require plenty of wall space to accommodate a desk and storage, glazing all around may not be the best option. The amount of glazing needs to be based on how much and when you'll use the building. To put things into perspective, a summer sunspot only needs single glazing while a year-round garden office will require double glazing.
Additional windows will cost more money and time if building from scratch. If you have the time and budget, definitely go for it. Otherwise, focus on lighting.
5. Electrics, lighting, and heating
Most companies will connect the electrics of your garden room to your home's main supply. Otherwise, you will need to call in a professional electrician. You should never attempt to handle the electrics on your own. While hiring an expert will cost you an extra £500, your safety should be a key consideration.
You can use a booster to tap into your home's WiFi or set up a new connection. It is important to find the best broadband provider.
If you are using your outbuilding as a garden home office, heating will be important. A halogen or oil-filled heater offers the best option as you can simply unplug it when it's not being used.
When it comes to choosing the type of lighting, same as with your indoor room lighting, you need to consider its use. Thus, in case your outbuilding will serve as an additional living space, consider checking out our living room lighting guide – the same tips apply.
6. The interior
Perhaps you want your garden room to match the style of the rest of your home, however, it will need to be more robust. For instance, the flooring should be able to withstand continual access from the often wet garden; the furnishings should be easily washable in case the outbuilding will be frequently used by children who rarely give any thought to jumping on the sofa straight from being in the paddling pool.
7. Exterior details
After selecting an outbuilding and properly positioned the outdoor lights and plants you want to show off, next, you need to consider the best decking ideas to make the space more appealing.
8. Maintenance
If your outbuilding is of solid construction, maintaining it should be much easier than maintaining your home. All that is needed is a fresh coat of paint on the woodwork or preservative on the cladding once every two to three years.
The base of the outbuilding is perhaps the most vulnerable part of the building. It is therefore important to leave enough space to allow for the movement of air beneath when designing it. This helps to avoid damp build-up that can cause rot and decay.
9. Security
Any kind of outbuilding, be it a summerhouse, garden office, or shed, is a high-risk area for intrusions and burglaries. It is therefore important to take the proper security measures.
Install motion-sensor lights and a home security system: This is particularly important if you work from home and have valuable computer equipment in there. There are also smart security systems that allow homeowners to access surveillance through their smartphones.
Securing valuables: Consider attaching computers to the walls using metal security casings as this will greatly help to deter and discourage burglars.
Lay a gravel path: When you have a gravel path leading to your outbuilding, any unwanted movements to your garden room will be noisy and much easier to detect.
Sort out your insurance policy: You need to ensure that you are properly covered should the worst happen.
Sponsored Links
Partner Links