Students protest arms and fossil fuels companies at Careers Fair
The activists, who held banners in front of the stalls of BAE Systems and Schlumberger, claimed University figures attempted "intimidation" to stop the disruption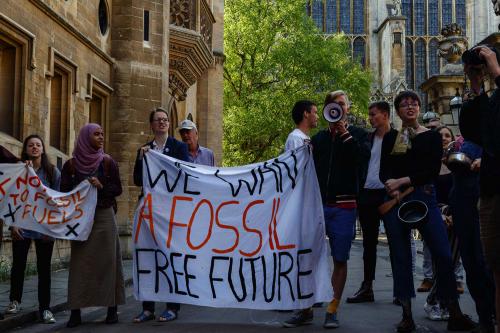 Yesterday afternoon, 30 students from Cambridge Defend Education, Demilitarise Cambridge and Zero Carbon launched a coordinated disruption of the BAE systems and Schlumberger stalls at the Engineering, Science & Technology careers fair.
The students, who held banners in front of the stalls, informed Varsity they aimed to disrupt "recruitment attempts of the specific companies throughout the event."
BAE systems is the largest defence contractor in Europe. Its clients include the Saudi Arabian government which stands accused of a civilian bombing campaign in Yemen - now the world's worst humanitarian crisis, according to the UN. Schlumberger is an international oil extraction and exploration technology contractor.
The protest follows a report released by Zero Carbon last week detailing the University's close relationship with fossil fuel industry, condemning its coordinated graduate recruitment strategies. The disruption comes amidst a week of actions by the group including a march, blockade and holding of a Divestment Conference featuring the Vice-Chancellor.
Proctors arrived half an hour after the protest and took pictures of the activists. Zero Carbon have branded this an "intimidation attempt", and also said that the BAE representative "addressed the protestors in a heated manner."
Passing students at the fair, on the other hand, seemed to be generally "show[ing] support" for the disruption.
A Zero Carbon spokesperson told Varsity, "We will not allow our University to be complicit in climate catastrophe, war and genocide. We see through the deliberate misleading of the oil and arms industry."
"Their offer is not that of fantasy technological progress, they only offer the perpetuation of 500 years of imperialist exploitation and oppression through war and environmental destruction."
Varsity has reached out to BAE Systems and Schlumberger for comment.