Oxford rejected offer of scholarship for black students, claims Stormzy
Oxford has denied the artist's claims, saying that "we have not received or turned down any offer or proposal to fund undergraduate scholarships at Oxford"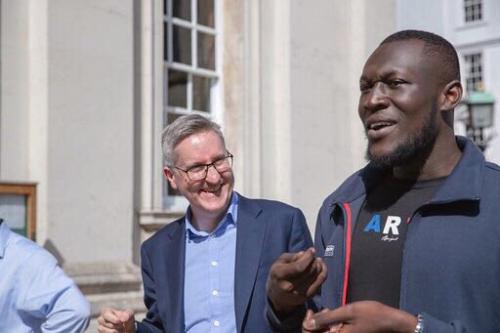 The University of Oxford declined Stormzy's offer to fully fund the tuition and maintenance costs of black students, the artist revealed yesterday at the Barbican during the launch of #Merky Books, a publishing platform for new writers.
"We tried Oxford but they didn't want to get involved," the award-winning grime artist said.
However, a University of Oxford spokesperson told Varsity: "We have not received or turned down any offer or proposal to fund undergraduate scholarships at Oxford. We have contacted to Stormzy's representatives today to clarify we would welcome the opportunity to work together on inspiring students from African-Caribbean heritage to study at Oxford."
The same funding offer was also made to Cambridge, who welcomed the scholarships in an effort to improve black access and raise the aspirations of under-represented communities.
The Stormzy Scholarship, valued at approximately £18,000, was this year awarded to two matriculating Cambridge students. It will fully fund their tuition fees and living costs for up to four years of an undergraduate course.
At the launch, Stormzy reached out to the "genius and incredible minds" among "badly behaved kids", saying: "If you're academically brilliant don't think because you come from a certain community that studying at one of the highest education institutions in the world isn't possible."
Stormzy said, "I am always very inspired by that genius" and by "people who are smarter than me", adding: "Now I am in this position I want to do something for them."
Both universities have been extensively criticised for their low admission statistics for certain BME groups, particularly black students. In the 2017, only 1.9% and 2.2% of students admitted to Oxford and Cambridge respectively identified as black.
In last year's admission cycle, the success rate of black students applying to Cambridge was seven percent lower than the average. Varsity found that the acceptance rate for black students exceeded that for Etonian students for the first time in 2016.
Guardian writer, Dan Hancox, attended the launch and took to Twitter to express his shock at Oxford's stance: "Tonight at the Barbican Stormzy revealed that the much-discussed scholarship he's funding at Cambridge was first proposed to Oxford University, and they told him to get lost?! Incredible."
David Lammy, Labour MP for Tottenham who has previously criticised both Oxford and Cambridge for their low black access figures, also expressed disbelief: "Why would you look a gift horse in the mouth [Oxford]? Must be getting too big for your boots."
Updated, 8th November, 1:32pm: This article was updated to include comment from the University of Oxford