Olympic Games: the winners and losers
Did Cambridge students catch Olympics fever? Sport Editor Katie Bartholomew investigates five perspectives on the London Games
by George Nash, Anya Muir Wood, Lily Hastings, Jerome Lyte, Emily Craven
Tuesday 2nd October 2012, 13:14 BST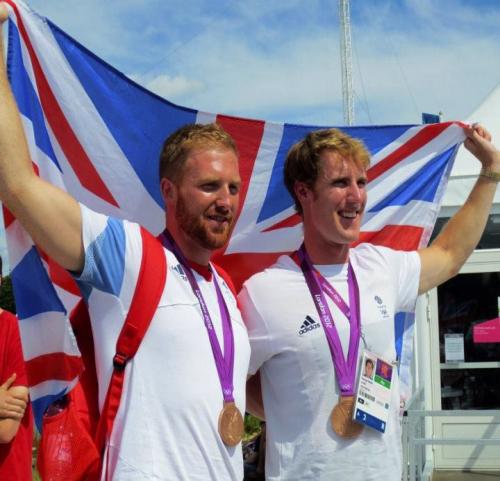 George Nash
THE OPLYMPIAN: George Nash
I would sum up my Olympic experience in two words: phenomenal people. From the guy I raced with to the last man and woman watching on the banks at Dorney Lake, I was positively shocked by the crazy things that people can do.
I came into the Olympics with a totally selfish mindset: for me it was about seeing what I could do against the two best rowers in the world on the ultimate sporting stage. I didn't think or care about what it meant having that stage in my home country, hosted by my home city. I thought all the hype was political bollocks. All I cared about was using the Games to push myself and the guy in front of me to the limits of what we were physically and mentally capable of. That was what sport meant for me.
We won a bronze medal in a race that took more out of me emotionally and physically than any other I've ever done. In the aftermath I was totally overwhelmed by what the Olympics did to my body; what it got out of my pairs partner; how the crowds responded; how people who I had never met before told me that they were genuinely proud of me, with tears in their eyes. Their warmth made me incredibly proud to be British and happy to have represented them in my small sport. It blew my opinion on what it means to be an Olympian out of the water.
THE OBSERVER: Anya Muir-Wood
London 2012 saw a medal haul to be proud of, but was it worth its weight in gold when it comes to the social impacts and infamous lasting legacy of the games? As Britain struggles with recession, an estimated £11-24 billion bill to the taxpayers for hosting the Olympics seems almost mocking.
Beyond the hype of record-breaking achievements and impressive feats of human endeavour, there are positive lasting effects that are unique to hosting the Olympics. Despite 'legacy' having become something of a joke, the word being so over-used that it has been emptied of value, a lot of work has gone in to ensuring that hosting the Olympics is not just a four week wonder.
The dramatic regeneration of a previously forgotten area of east London is an obvious improvement with great longevity. Stratford has been rebuilt and promoted as an up and coming area of the capital, although this has come at the cost of traveller communities and co-operative housing that were demolished to make way for the giant Olympic footprint. What the general public will be left with, though, is the Queen Elizabeth Olympic Park – 257 acres of open space, 8000 new homes and 5 world class sporting venues. An area buzzing with the cultural high of Olympic fever that will force legacy to be taken seriously.
As well as these concrete achievements, there are the less tangible social effects that have taken hold of Britain in a whirlwind summer romance. Alongside the imposing athletes stood the inspiring Games Makers: rallying and organising the crowds, assisting the competitors and providing an energy to keep London 2012 running smoothly with a spirit of volunteering that many thought long forgotten.
The Paralympics has nurtured a new perception of disability, drawing a wider audience to witness what humankind can achieve despite the hardest of circumstances. There is plenty of talk about a changing attitude towards disability, with hope that this can inspire improved rights for disabled people.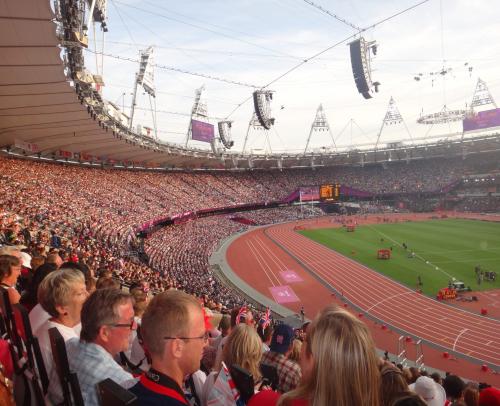 Richard Parkin-Mason
There is also the undeniable pride that has wooed even the most cynical of critics. The grit and determination of the athletes was evident in triumphs and defeats, their hard work not going unnoticed. The wall of noise that greeted each British athlete whenever they stepped foot on the track was enough to show that although the cost may be extortionate, the aim to 'inspire a generation' has begun to pay off.
Legacy is easy to criticise and question when looking at the shortfalls and great lengths still to go to achieve value and for money lasting impact. A crucial element of it is to not just sit back and wait for the improvements to come to us, but to give life to the legacy through changing actions and attitudes.
THE WORKER: Lily Hastings
"That's £10 for the souvenir programme, please."
"Thank you dear, and thank you so much for volunteering your time."
"Actually, I'm getting paid..."
In an effort to avoid a summer internship ("It's what all the second years do," according to my mum), I managed to get myself a job selling programmes at London 2012. After adjusting to the sweaty, claustrophobic commutes, I settled into the job and really began to enjoy it. This was a miracle: I have never enjoyed a job in my life.
The atmosphere was electric. After spending weeks surrounded by cynical friends (the more extreme of whom took "transport's going to be a nightmare" to mean "we're all going to be blown up"), it was great to be around people as enthusiastic as me. Gone was the usual frosty atmosphere of the capital; in its place, a friendliness and openness that far surpassed my expectations. Spectators came from all over the world and most were keen to share their stories with me: a French gymnastics judge, a man from Kansas who had been to the last five games and a couple of very sexy policemen. What's more, programmes were selling like hot cakes, despite being £10 each.
The odd disgruntled person would see my employee pass and assume I was responsible for the whole running of the games, and lay into me – tickets too hard to get hold of, security queues too slow. But these modern day scrooges were heavily outnumbered.
Oh and the volunteers, you know, the unpaid ones in the ugly purple and red uniform? I must admit, I was very impressed with their motivation: their hours were similar to ours and I would expect the thought of an 11-hour unpaid shift to get anyone down. Not these guys. Their enthusiasm never let up and, come midnight, they were still shouting and dancing and high-fiving and oh gosh just being too cheerful for a cold, rainy night.
Verdict on the whole experience? Bloody tiring but a right laugh. My no longer pitiful bank balance and I are very proud to have been a part of London 2012.
THE LONDONER: Jerome Lyte
As someone who lived and worked in London throughout this summer's Olympic Games, the public awareness campaign 'Get Ahead of the Games' struck me as particularly cruel. It both fed an atmosphere of impending travel doom and simultaneously reminded commuters that while other superhuman high achievers would be competing on the field of international sport, garnering fame and everlasting glory, their only competition of the summer involved desperately trying to get to work: a competition everyone assumed they'd lose.
I worked for a company that bought into the notion of Olympic chaos root and branch. To stave off disaster, employees were advised to plan different routes to work, camp outside the office, dig alternative underground routes or leave for work six or seven weeks early to avoid delays.
Amusingly, travel anarchy did not materialise and despite squatting on an Olympic artery, my commute remained much as it was before: slow, smelly and uneventful. I've read 'heart-warming stories' of the Olympic spirit penetrating London's Underground: of travellers exchanging tales, offering advice and generally making love to the notion of value-driven competitive sport.
I was witness to literally no such thing! Olympic events and coverage decadently consumed my office hours but failed to make an impact on London's real competition: the rat race.
THE SPECTATOR: Emily Craven
I have watched the Olympics obsessively every year for as long as I can remember. I was in the capital on a school trip on the day it was announced that London's bid had been successful. Although I was very excited, I never expected I'd actually be there.
My doubts weren't assuaged as I failed to secure tickets in the first few ballots. A trip to the Olympic Park in 2010 with the Cambridge University Athletics Club (CUAC) had really whetted my appetite. Then, last year, I was one of the privileged few qualifying to run in the stadium at the BUCS Athletics Championships: the official test event for the Olympics.
Fortunately for me, my trips to the stadium did not end there, as I eventually got tickets for both the opening morning of Olympic athletics and the final evening of Paralympics athletics. I can proudly say I saw Jess Ennis start out on the road to heptathlon gold: a personal highlight for me as a hurdler (albeit much slower than Jess) was seeing her break the British 100m hurdles record.
Amidst 80,000 people screaming, the atmosphere was absolutely electric. The Mexican wave of sound that followed the athletes around the track had to be heard to be believed.
Comments