Music: Norah Jones- Little Broken Hearts
Frances Docx enjoys Jones's latest, but might not bring it home to meet the folks






by Frances Docx
Monday 7th May 2012, 09:43 BST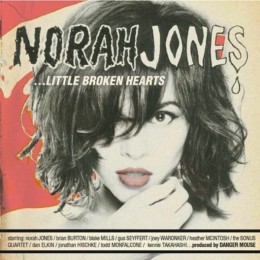 Norah Jones has always been the smooth, non-offensive option, tasteful and poised on the border of elevator and coffee shop. However Little Broken Hearts, is saturated with a yearning and piercing honesty which refuses to assume the remedial position of background music and instead asserts itself as racy, forthright and determined to strike you with those familiar chords of heartache.   
Her first albums exhibited a smooth grace; if I was to be as pretentious enough to personify albums, which I am, hers were the type you'd take home to see your parents for Sunday dinner. This funked up and fresh album is another matter. I wouldn't be audacious enough to claim that you wouldn't receive a warm roast welcome bringing home her new release, there still remains a certain unadulterated amiability to her; but rather, her new sound is as if she's smiling at your parents whilst knowingly wearing naughty underwear. There's something sexy and strong-willed about this album yet still tasteful and charming.
Despite some of her lyricism just falling short of playground taunts in the light of a break-up ('it's alright it's okay, I don't need you anyway,') there's something brave in this raw portrayal of the break-up conceit and something enchanting in her voice. It plays with the wallowing self-pity we would expect from such an album whilst counter balancing it with a hard determinism and self-empowerment. In particular, 'Travelin On' is quite a moving piece; the moaning cello begs us to indulge in a little melancholy while the staccato rhythm of the synth keeps us just above that line of sheer misery.
Incongruous perhaps, is the track '4 Broken Hearts' which tries to infuse too much power ballad into an album which is tugging in the opposite direction. In general though, the album is stripped back of the rich piano and meaty snare which characterised her earlier work (Don't Know Why) and has become a much more electric sound. We've lost the jazz club sincerity of the heavy piano solos in favour of some dub reggae, mid-tempo beats and heavy rhythms as well as a dusting of minimal cello and spare guitar. But the unifying principle, her honeyed vocals, still possesses that aural addictiveness.
Comments