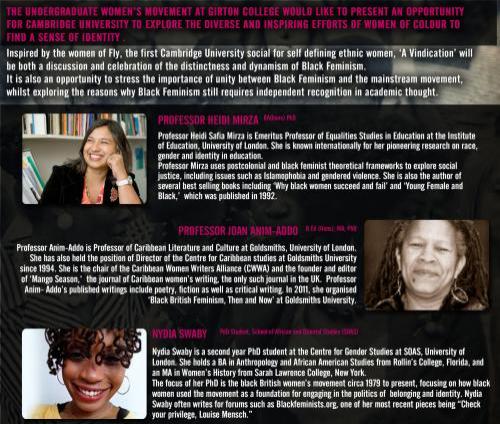 Priscilla Mensah
The Vindication of the Rights of Black Women, the first event of its kind in Cambridge, was held at Girton College by the undergraduate Women's Movement on Tuesday evening. Described by one of the speakers, Professor Heidi Mirza, as a "historical event," A Vindication was a panel discussion concerning the distinctiveness and dynamism of black feminism today.
The discussion largely centered on black British feminism as opposed to black feminism overall. Priscilla Mensah, organiser of the event and Girton student, said that the panel discussion was "an event about identity, or rather, the pursuit of black womento find their own, unbound by racist, sexist stereotypes".
Issues concerning the lack of women of colour at the forefront of academia, politics, the media and within scientific circles, as well as the importance of dispelling the myth of the "Angry Black Woman", were addressed by three eminent speakers.
Professor Joan Anim-Addo of Goldsmiths University, stressed the importance of overcoming the muted voice of black British feminists, one theme common to all speakers.
Anim-Addo spoke about the importance of speaking out, especially in powerful, predominantly white, institutions such as Cambridge.
The second speaker, Heidi Mirza, Emeritus professor at the Institute of Education, focused on the subjugated experience of black women.
She argued that a distinctive space must be reserved for black feminism in order for there to be accurate accounts of the stories of black women themselves.
Though mainstream feminism shares common themes with black feminism, Mirza argued that it lacks this distinctive feature which illustrates why black feminism, as its own strand, is essential in the wider debate.
Nydia Swaby offered a frank and personal account of the role black feminism has played in her life, namely its role in liberating her from white male hegemony and opening her up to the wider debate.
The discussion stressed that black feminism is an inclusive concept applicable to many women of colour. Women from the diaspora, Latinos, Indians and Africans are united by a common colonial past, Mirza explained.
Speakers spoke about the historical background of black feminism, making reference to the Indian suffragettes of 1911, to Jayaben Desai of the Grunwick Dispute, to the Feminist Review and to the Southhall Black Sisters.
The concept of intersectionality – that at any one time we fit into more than one category – was another key theme of the discussion. The inclusivity of black feminism was raised: it was noted that since race, gender and class are accessible to all women, and men, we can all understand our identities
in these terms.
Black feminism, it was argued, has an important role in the counter hegemonic discourse, being at the fringes of the mainstream debate, which can be expressed as effective activism and giving a voice to black women.
Fly, the first Cambridge University society for self-defining ethnic women, meets regularly at 1.15pm on Fridays at the Waterstone's Cafe.
Comments