No Cam-ing Back For Mr Asbo
After three years of attacks on river users ranging from rowers to seven-year-old children, the waters of Cambridge are finally safe from the notorious Mr Asbo.
by Josie Parkinson
Saturday 5th May 2012, 12:13 BST

Ever since the swan first hit the headlines with his less than graceful behaviour, there have been petitions to have him removed from the river, including appeals to the Queen. However, his aggression has increased over the past few weeks; in his most recent offence, the bird even managed to capsize a scull. As a result, emergency license was granted by Natural England to safely relocate Mr and Mrs Asbo and their family to a sanctuary 60 miles away.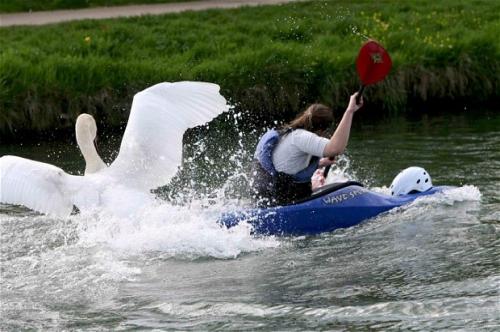 The Daily Telegraph

This is a highly unusual measure given that it is mating season, but river manager Dr Pip Noon stressed that the swan was now out of control: "The obvious reason to have them moved is for welfare and we were concerned for the level of disturbance to the birds during breeding season. The male had escalated his attacks on rowers this season and his behaviour had worsened."

The birds' supporters have flocked to his defence. Over the years, Mr Asbo had acquired a substantial following due to his outgoing nature, and it has been argued in his favour that the reason for his attacks is the protection of his cygnets. His greatest fan, Robin "Battleship Bob" Middleton, commented: "It's bang out of order. What right do they have to take him? He is a very intelligent swan and this is despicable."

Nevertheless, rowers have been relieved by the end of Mr Asbo's reign of terror, especially in the run up to May Bumps. Max Fitz-James of Caius M2 said: "I think removing him is way overdue since all he does is annoy us and all we do is threaten his nest. He'll be much happier away from the action."
Comments