Sad Stories of the Death of Kings: What David Cameron must learn from Shakespeare
Felix Danczak on the relation between Richard II, David Cameron and what it really means to have power
Shakespeare understood power. His tetralogy of plays chronicling the lives (and deaths) of Richard II, Henry IV and V have at their core the issue of what it means to hold power, who can, and why. Being King, Shakespeare makes clear, is more than the wearing of a crown - especially if you want to keep it on your head. As the Shakespeare festival kicks off, and Sam Mendes releases details of a new series of dramatizations of the Bard's work, it's clear that his themes are as relevant as ever, not least in British politics. 
Like Richard II, David Cameron faces a crisis of power. Accoutred with the mantle of King, both are resplendent in the pomp and circumstance of high office - whether dining with Obama or passing judgment on dueling lords. Both recognise the importance of image in maintaining their position, distancing themselves from wrongdoings in their courts despite being implicated. Appearance is vital to their roles.
Both can talk the talk: silver tongues and quick charms allow criticism to be ignored - Cameron's confident display every Wednesday in a hostile Parliament reminiscent of Richard's easy dismissal of Gaunt's dire warnings for the future of Britain.  Both also have legitimate claims to their respective thrones though custom and law - Richard, the divine right of God's representative, Cameron the leader of the Commons' largest party. Yet the position of both is weaker than their comportment suggests. As Shakespeare makes clear: power is more than the right to be king. Power comes with acting like one.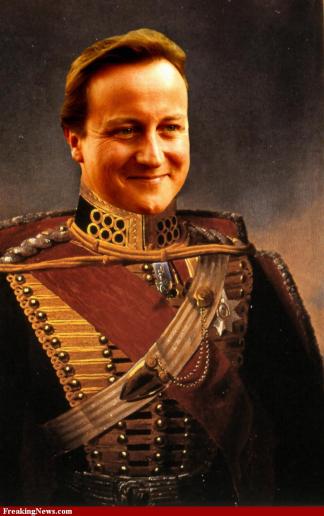 Cameron and Richard share a similar problem - neither seems to be doing a very good job of running the country. Richard wastes the realm's funds on unnecessary wars, and steals from dying men to make up the shortfall. Cameron's government has followed a policy of austerity that has arguably pushed the UK back into recession even as others slowly recover. Coupled with recent gaffs - an inability to work out the date, inappropriate relationships with media moguls and class slurs from his own backbench - Cameron's management is hardly exemplary.
The future Henry IV lacks Richard's eloquence, but makes it up in being an excellent political mind. A man of the people, headstrong, practical and honourable, Henry Bolingbroke usurps Richard's throne with ease - demanding justice for a murdered cousin, fiscal stability and the return of his stolen lands. Bolingbroke deftly manages his allies and his king, knowing when to push an advantage, when to charm, and when to seize the throne. Shakespeare is making a simple point: power comes from the ability, not just the right, to rule.
Like Gaunt's warnings to Richard, the UK local elections have sent a message to Cameron that his actions are not considered in the best interests of the nation, giving Labour a projected majority in Parliament were this result repeated in 2015. 'Landlord of England art thou now, not king' spits Gaunt at his King. Cameron is not yet in the position of Richard II. But he may face a similar fate if he does not heed the judgment of the nation.
Fortunately for good King Cameron, there is no obvious Bolingbroke to challenge his claim to power. Ed Miliband, despite having held the leadership of the Labour party for almost 18 months, has shown little sign of the characteristics that make Bolingbroke into Henry IV. Few concrete policies and a reputation, deserved or not, for trundling incompetence is hardly the recipe Shakespeare writes for a monarch. He may still recover, like a prodigal Prince Hal (Henry V) – his poll ratings are good enough to suggest he may yet be the man for the job. But that requires bold action, something of which he seems incapable. 
So Cameron is in no real danger. Lacking a viable contender, Labour are lost, leaderless in a time where the throne might be vulnerable if the right demands were made. Someone closer may emerge if Cameron continues his misrule – some say Boris Johnson covets his crown. But for now, without strong Bolingbroke, weak Richard is safe. Let us hope the King remembers how to rule, lest England, as Shakespeare warns, make a shameful conquest of itself.
 Felix Danczak blogs at www.intelligentdebate.wordpress.com 
Comments