Prevention 'tips': how not to undermine myths surrounding sexual assault
An increase in the reach and support of campaigns against sexual assault is welcome and long overdue, but some of the campaign literature uselessly compromises its own cause
by Patrick Sykes
Monday 9th April 2012, 19:00 BST
Campaigns against sexual assault and rape have been recently bolstered and united by the increased availability to the media of highly specific reference points, around which the debates can be conducted. Through his trials and tribulations, Dominique Strauss-Kahn is the walking human example of one such node; International Women's Day might be a more general one.
In parallel with these campaigns, a particular poster template has become increasingly popular. In a satirical inversion of discussions around sexual assault that focus blame on the victim, these posters (see below for examples) present the reader with 'tips' on how not to rape someone – parodying the all-too-familiar 'advice' not to wear provocative clothing or to go out alone at night.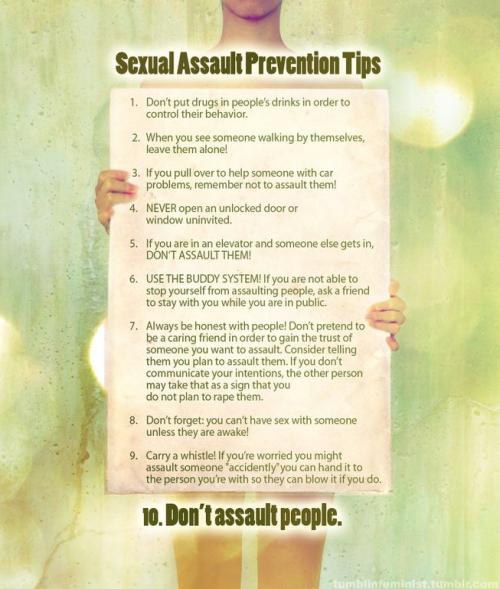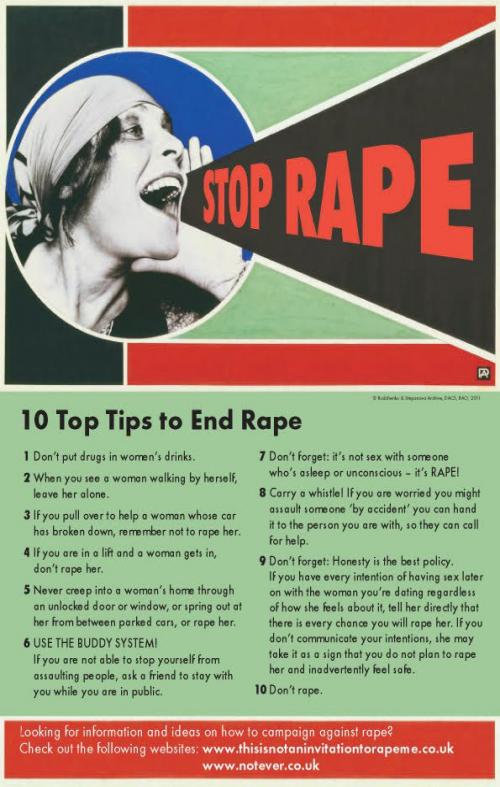 On the one hand, their format empowers potential and existing victims of sexual assault. It demonstrates to those individuals that there is no reason for cultures of victim-blaming to be taken for granted in society, and reassures them that people are working to challenge such backward convictions. In so far as they support victims, the posters are undeniably valuable tools. Yet whilst I cannot claim to appreciate the potential worth of this victim support, I can absolutely appreciate the potentially counterproductive interpretation that the posters simultaneously encourage.
The problem is that, alongside the victim, they at once elect and ignore a second, far more explicitly stated audience – the 'you' to whom they directly address themselves: the potential rapist and those whose acquiescence or partake in victim-blaming. When they reach this readership, they will be received as campaign materials designed to persuade the perpetrator rather than to support the victim, to prevent rather than to treat the disease; and in this capacity, they have the power to patronise half of the population, while convincing nobody. Insular but aspiring, they become exercises in a blinkered ventriloquism of a projected reader who is denied their text. This is not activism; it is stasis. Hate rapists, certainly. Prosecute them, obstruct their access to positions of power, but to address them in this way achieves nothing. Nor is it enough simply to 'get people talking'; discussion is inevitably informed and shaped by the objects that motivate it. If these original objects are flawed, the debates too will suffer.
The posters' satirical mode has been used elsewhere to far greater effect. One of the two examples I link above directs readers to http://notever.co.uk/, where a short film parodies the lecher's slogan 'She's asking for it', depicting a woman as she asks a shop assistant for help: 'I'm going out tonight and I want to get raped. I need a skirt that'll encourage a guy to have sex with me against my will'. The film (entitled 'Asking for it? As if') highlights the point that 'Nobody asks to be raped' by following the logic of victim-blaming to its natural end, and in the process demonstrating the ridiculous and deliberate oversights required to sustain any investment in it. Its founding subversion can, like the posters, support the victim, but its intelligent deconstruction can at the same time influence the aggressor. Whilst both of these aims should absolutely be pursued, neither need be achieved at the expense of the other.
The same poster has a link to a second website (http://thisisnotaninvitationtorapeme.co.uk/), where myths about drinking, dress, and mixed signals are stated as such: as myths – out-dated, imaginary and simply untrue. Here, images of newlyweds, young women drinking, and a woman wearing a revealing top are captioned with the words 'This is not an invitation to rape me'. But there is a big difference between telling people not to do something they already know to be wrong – as the posters do, and as the law already does – and warning them that particular situations are by no means 'invitations' to particular actions, as this website does. The deflating of a presumption requires the severance of its flawed chain of causation, not an unsubstantiated imperative to curb choice, however ironically charged it might be.
The definitive message of all these materials is, put simply: don't rape. But a just cause can be obscured by the contexts in which it is communicated. The posters are counterproductive because they fail to juggle their implicit and explicit audiences. Support for victims is essential, certainly, but it is only one half of the problem. If a campaign addresses either the potential aggressors or those who sustain a culture that excuses their actions, it must be prepared to speak to them. 
Comments